Retreat & Yoga Teacher Training
with Mark Whitwell
2019 Dates:
Monday 30th September to Sunday 13th October
This is not your average teacher training…
Experience abundance, nurturing simplicity, profound community, and Mark Whitwell's most thorough teachings during two weeks in Fiji's primordial haven. If anything, this is an 'untraining,' where we throw out of our systems all the thought systems and movement patterns that are not serving us, and come into harmony within and without.
"The only reason we choose to do yoga is for the pleasure — the literal pleasure — of our systems relaxing and filling with energy. It is not some struggle to enjoy a future result." — Mark Whitwell
Mark teaches Yoga from the Great Tradition, as brought forth by the "teacher of the teachers," Tirumalai Krishnamacharya, rather than any 'style' of Yoga. You will therefore be able to apply these principles to any style or level of Yoga you wish to practice or teach, to make all Yoga individualized, effective, enjoyable, and safe.
In the simplicity and wildness of Taveuni, the 'Garden Island,' we will explore how Yoga is not just a physical workout, a collection of information, or a "spiritual" workout towards a future, better version of ourselves. It is each person's direct participation in the nurturing force of reality, as it is appearing as you, me, and everything else. Mark's teachings give us the practical tools that allow us to feel our own intrinsic joy, freedom, and authority, and share this.
With guidance from Mark and assistant teachers, you will receive:
Opportunity to deeply explore the practice of Asana, including appropriate inversions, twists, forward bends, and backbends, designed specifically for you and your students;

Experiential knowledge of Asana, Pranayama, Meditation and Life as a seamless process;

Krishnamacharya's Five Principles of Practice, restoring receptivity and sensitivity to asana (and life);

Exploration of Bandha in Asana and Pranayama;

Exploration of the Yoga Sutras, Vedic chanting, and how to incorporate mantra in practice;

Understanding of Vinyasa Krama, the art of appropriate sequencing;

Yoga philosophy, but in the deepest, practically embodied sense of "loving wisdom," rather than as dry theory;

The essential principle of "strength receiving" and how Yoga enables a person to feel and enjoy the union of all opposites;

Actually tasty, fresh yogic meals prepared with love from mostly local ingredients, organic as much as possible;

Optional adventures to Taveuni's famous sacred waterfalls, Bouma Falls, to local snorkelling sites, and to the incredible local natural rock waterslide;

Sublime classical Indian sitar and sarod music from master musicians Joanna Mack and Bruce Hamm;

Understanding of the "social dynamic of disempowerment" that defines and limits most teaching situations, and knowledge of how to care and teach as a friend and equal;

Connection with other genuine practitioners from around the world who want something more than a cookie-cutter teacher training;

The skills through Yoga to get your life right for you, and to help others do the same;

Deep, profound relaxation, and the experience of feeling the intrinsic beauty of our own nature, as nature.
Cost:
$2400 for full two weeks
Includes all meals (breakfast, lunch & dinner), full tuition, airport transfers, printed resources, access to online resources, and any group expeditions to waterfalls etc. Does not include accommodation: See below for accommodation options and book direct with the resort.
$500 Deposit upon registration secures your spot.
All amounts in US dollars
Full payment due by September 1, 2019.
Scholarships available for Fijian nationals wanting to become Yoga teachers.
Who is this retreat & yoga teacher training for?
Anyone who has taken a workshop or class with Mark and feels drawn to go deeper into the teachings;

Anyone who wants their practice to be pleasurable, not about struggle towards future results;

Existing teachers who feel disillusioned or lost in the 'Yoga Industrial Complex,' and want to put the heart back in their teaching and practice;

Those just starting to practice, who intuit that Yoga is not about gymnastics, or about 'spiritual gymnastics';

Anyone looking for a practical technology from the Great Tradition to support them in their devotional or Yogic life in an empowered and authentic way;

Anyone wanting to understand the connection between practice on the mat, and relationships off the mat, and how to make it all our Yoga;

All those interested in the lineage of Krishnamacharya and the accuracy of practice that has been left out of so much modern Yoga.

Anyone wanting a sublime, relaxing, yogic retreat in a paradise island with beautiful music, food, people, and environment!

Those who cringe at the prospect of a assembly line training and want something wilder, more intimate, more integrated with the local culture and community, more spontaneous, less knowledge based and more experiential, and more community focused.
Questions?
Please use the form below for any enquiries. You can also message or call Rosalind on WhatsApp +64277159538.
ACCOMMODATION OPTIONS
The Heart of Yoga Ashram and Shala space are located in Sonqulu, on the western side of Taveuni, about 30 minutes drive from Matei Airport.
If you need your own space and bathroom, there are several excellent resorts on Taveuni Island: we are encouraging people to stay at the lovely Taveuni Dive Resort, which is within short easy walking distance of where we gather daily (approx 10 mins). You can stay at any of the others (such as Garden Island Resort is good) if you prefer but you'll need to catch a daily taxi to and fro (approx 20mins) and timings in Fiji can be "relaxed" (ie a bit of waiting for pickups). If you are interested in sharing a room at the Dive Resort we can connect you up with a roommate so you can book together, email rosalind@heartofyoga.com if that's you.
There is also an Air BnB nearby with two rooms available (total 2-4 people). Email rosalind@heartofyoga.com for prices if you're interested.
It is also possible to stay onsite at the Heart of Yoga Ashram in very basic dormitory accommodation (6-8 people per room, mattresses on the floor, shared bathroom, cold shower only).
Note that we spend most of the day at the shala and share meals together here. It can be nice to be within walking distance of accommodation so you can rest in the middle of the day lunch break if you wish.
Taveuni Dive Resort
"The island's newest resort has 8 luxury bures (houses) and a destination restaurant & bar centrally located in Soqulu. Our resort provides the shortest room-to-reef commute to the world-famous Rainbow Reef. The property caters to divers and non-divers alike, and is situated in lush gardens overlooking the Somosomo straits. Taveuni Dive Resort is the first sustainably designed and operated property on the island of Taveuni."
For more info and to book: http://www.taveunidiveresort.com/
Heart of Yoga Ashram / Shala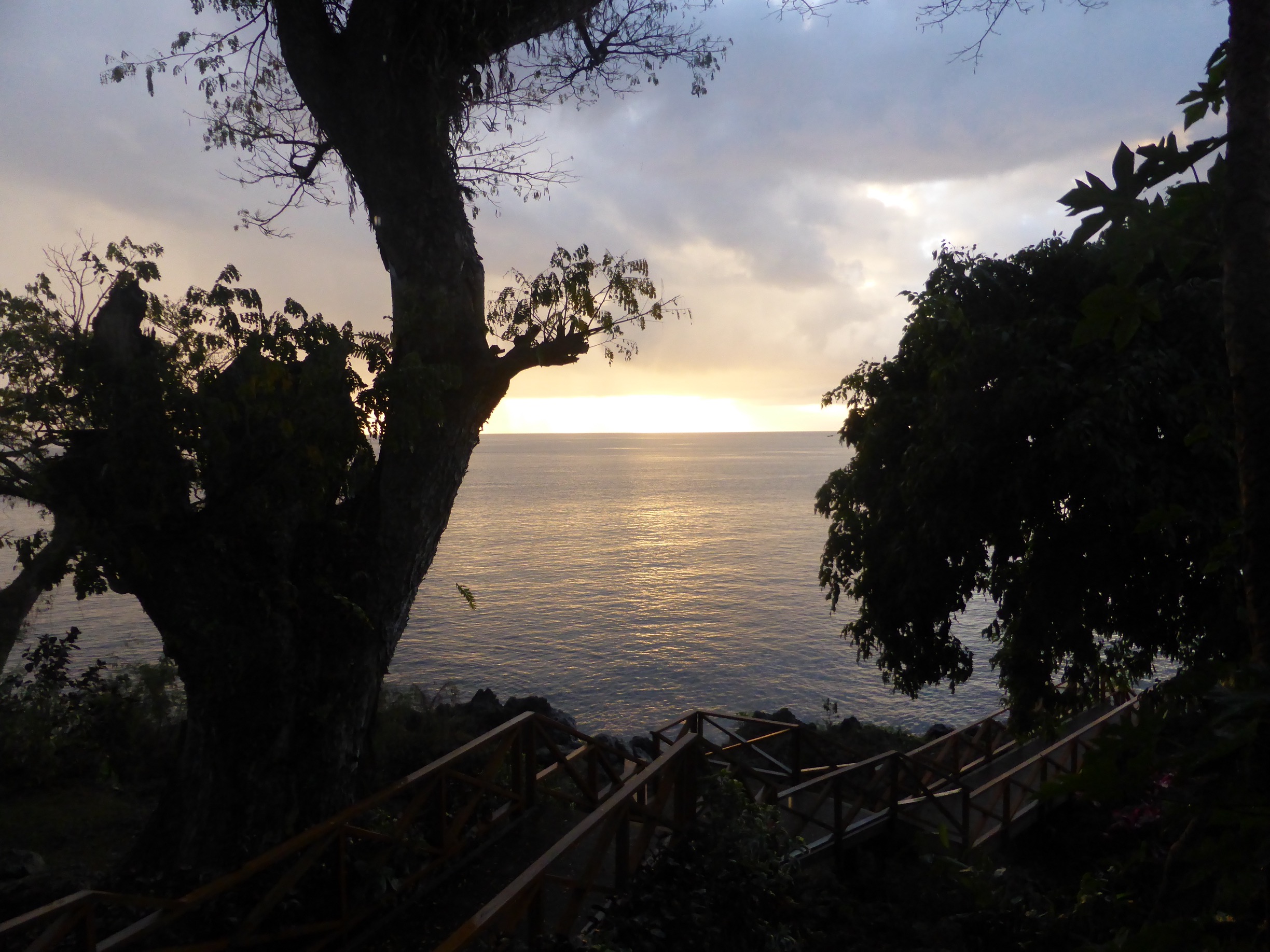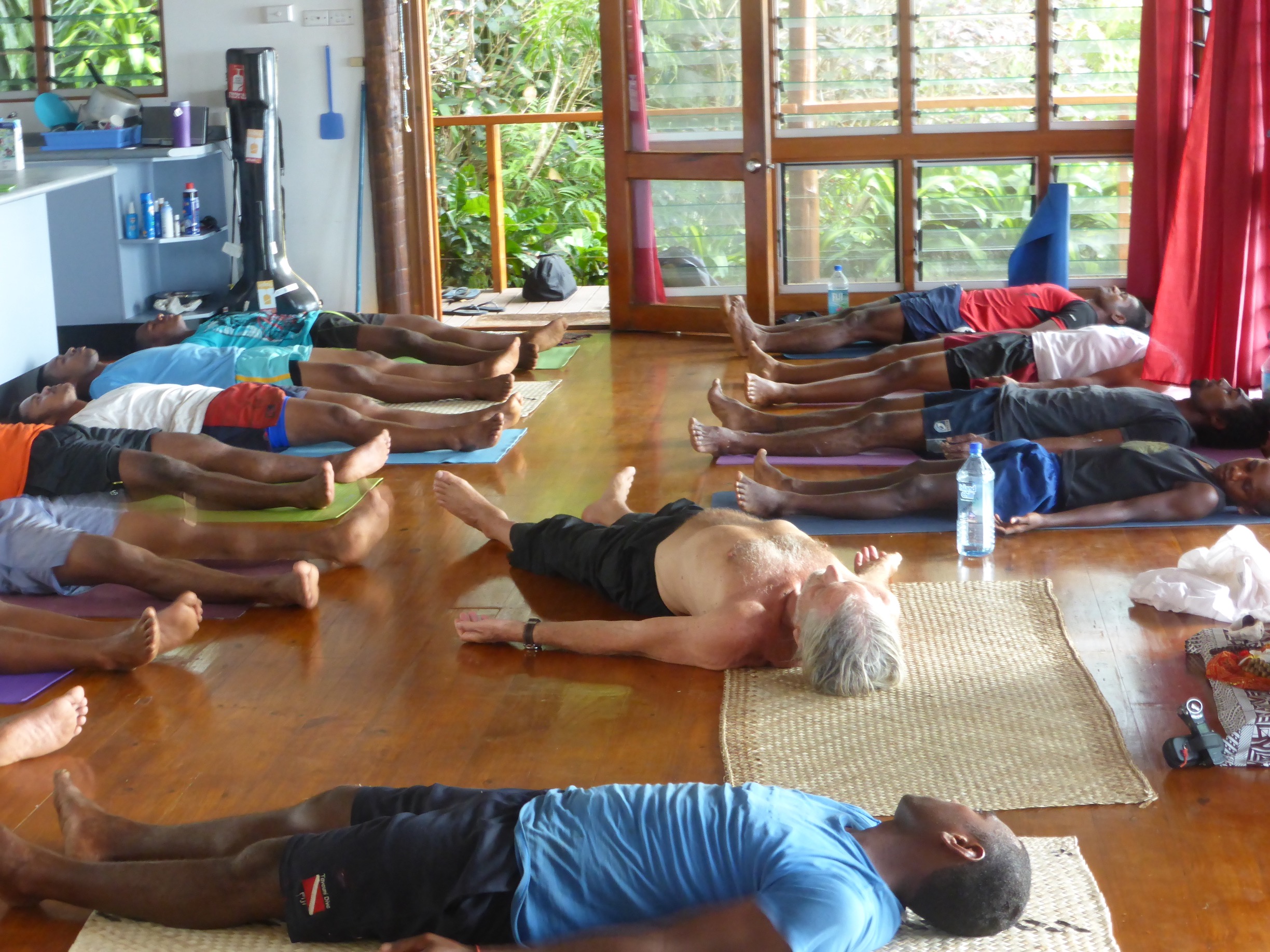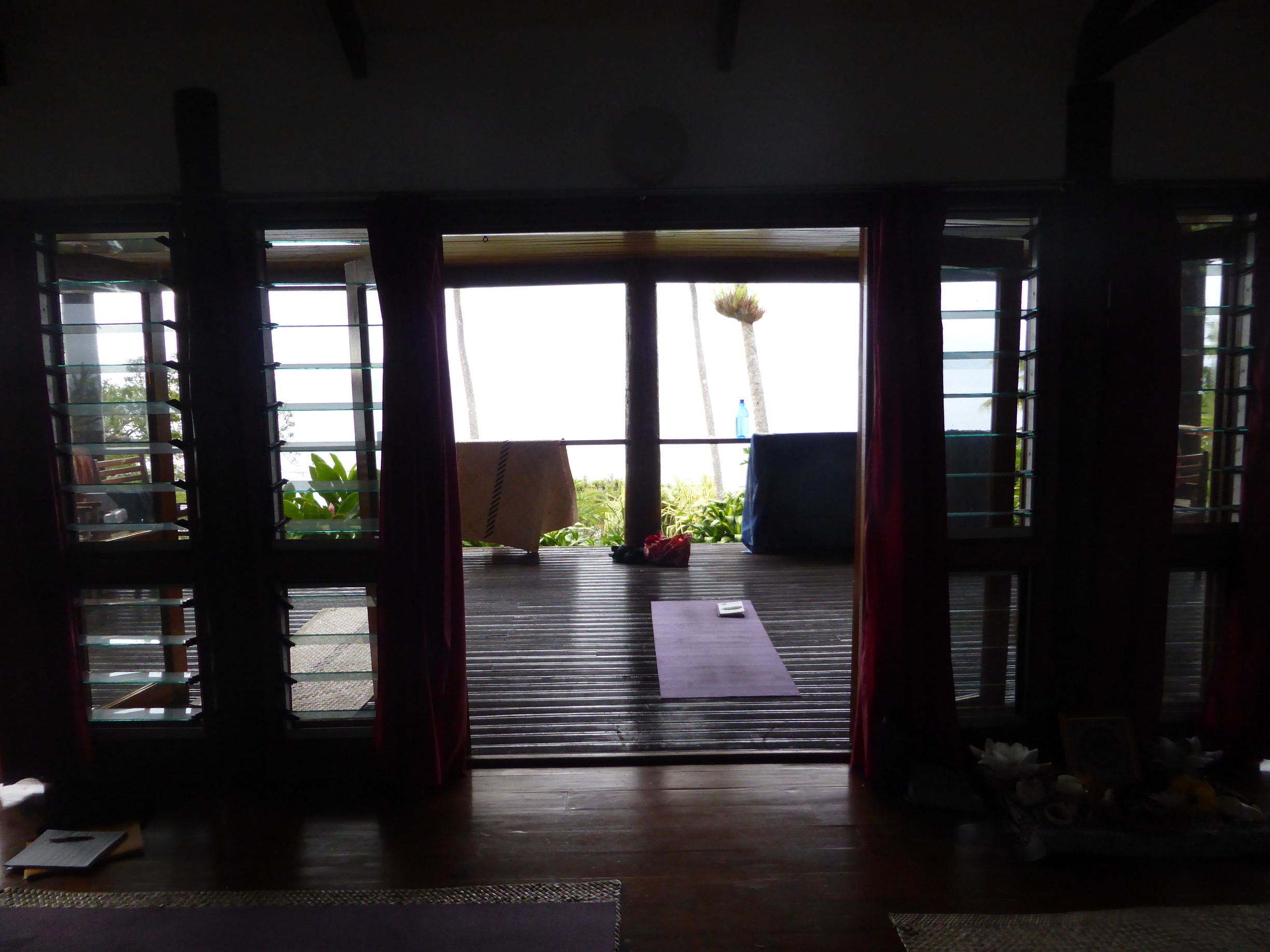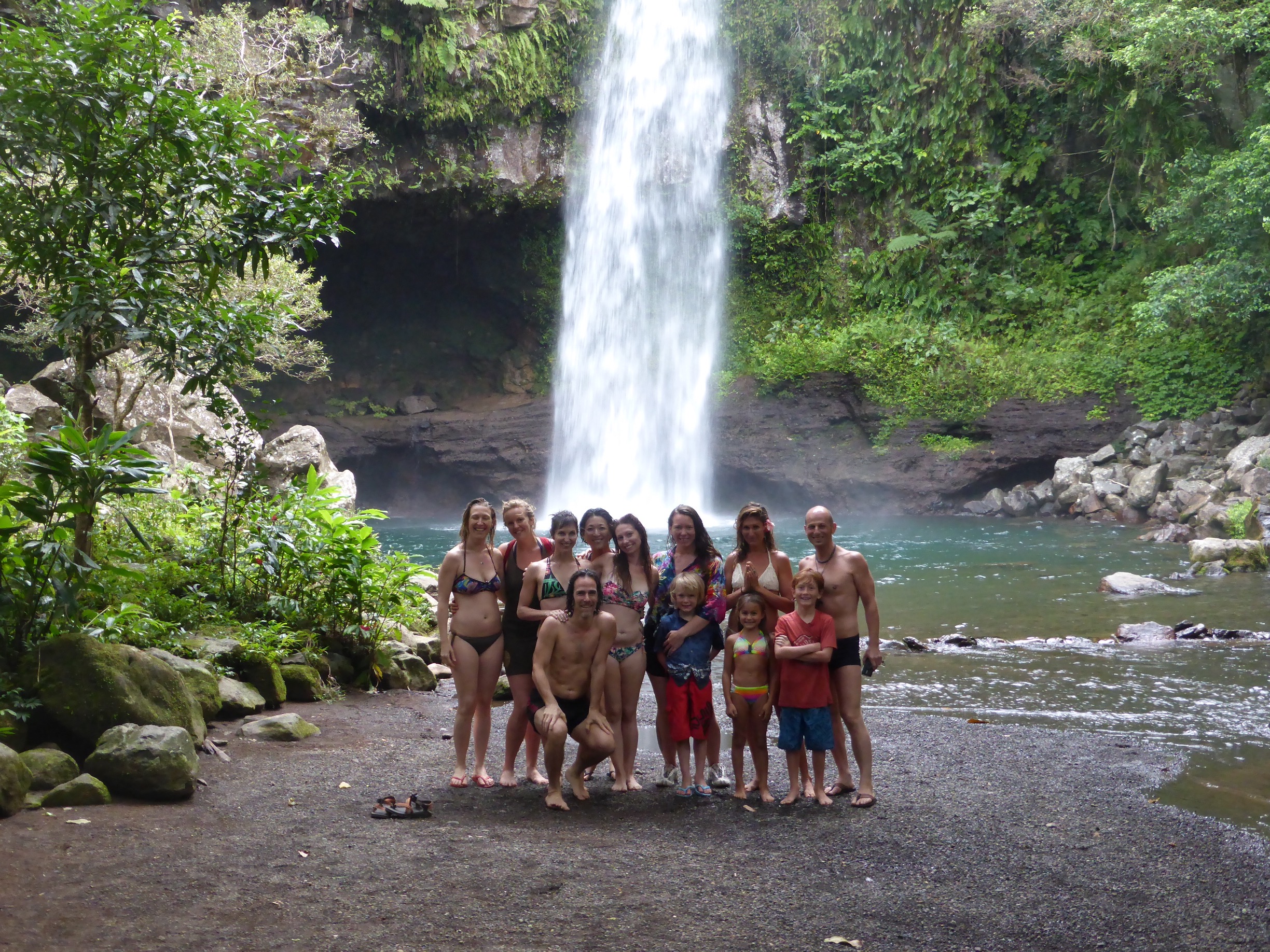 The land here is the 'Mother': powerful, sacred, and nurturing, filled with palpable energy. Surrounded by papaya trees and pineapple bushes, this really is the heart of Fiji simplicity and beauty.
Please be aware that life in Fiji is simple: food options, transport and cell reception are all less complex and efficient than you may be used to. There is one main road winding around the island of Taveuni, and much of it is unsealed. Power can be intermittent, as can cell reception.
Luxury comes in the form of the ocean spread before you, the warm Fijian air, the geckoes at night time chirping, and the papaya trees covered in cascades of fruit all around.
TRAVEL LOGISTICS
GETTING THERE
Our training is on the island of Taveuni, the third largest island in Fiji, so you will need to arrange to get there from the main island, Viti Levu, where international flights arrive into Nadi or Suva.
FLYING:
You can fly internationally into Nadi airport on the west of Viti Levu, the main island of Fiji, or into Suva on the east. Fiji Airways often has affordable international flights, including bookings all the way through to Taveuni (transfer in Nadi or Suva).
From Nadi you can fly to Taveuni's airport, Matei, with Fiji Airways, or you can fly from Suva with Fiji Airways or Northern Air (who are much cheaper, but have an irregular flight schedule, check here: https://ars.northernair.com.fj/Booking/FlightSchedules/).
It's possible to catch an affordable (approx. FJ$15) 4-hour bus from Nadi to Suva in order to fly from there on the cheaper airline if you're keeping costs down.
FERRY:
If you're feeling more time-rich and adventurous, you can also arrive in Taveuni via ferry from Suva. It takes approx 12-16 hours and is definitely not luxurious! Goundar Shipping Ltd. offers a daily schedule to Taveuni as well as other nearby islands. To check out their schedule and rates please consult their website at Goundar Shipping Ltd. There is also a new ferry service, Miller Shipping, going from Suva to Taveuni and back. It leaves at 4 am at either end. Fare is $71 FJD one way. More info under 'ferries' in the link below.
More info: http://www.pure-taveuni.com/gettinghere.html
We will pick you up from your flight or ferry.
If you're confused about travel contact Rosalind rosalind@heartofyoga.com or WhatsApp +64277159538 and she can help you figure it out.